How to go to Victoria Peak
Q: How many ways are there to go to The Peak?
A: 1) bus 15C -> Lower Peak Tram terminus -> Peak Tram -> The Peak
2) bus 15 -> The Peak
3) mini-bus 1 -> The Peak
4) car / taxi -> The Peak
From
To
By
Star Ferry pier in Central
Central Peak Tram terminus
bus no. 15C
(Suspended)
Admiralty (retired bus)
Central Peak Tram terminus
bus no. 12S
Pier 5 or Exchange Square, Central
The Peak
bus no. 15
Tin Hau
The Peak
bus no. 15B*
Sai Wan Ho (retired bus)
The Peak
bus no. 515*
City Hall, Central
The Peak
mini-bus no.1
Admiralty Bus station
The Peak
Bus no. X15
(temporary)
* It runs on Sunday and public holiday only.
Q: What is the best way to go to The Peak?
A: The Peak Tram. The Peak Tram was first introduced in 1888. It was built for the daily commuters rather than a tourist attraction though nowadays majority of the passengers are tourists. The ride is quite steep and it climbs up to 396 metres above sea level. The panorama view of the harbor is spectacular. Ticket prices are here.
Q: What if I don't go by Peak Tram?
A: If you go by bus 15, mini-bus or taxi, you will have a different view. The road is winding for you are going up hill. You will also see the upper class' expensive houses and flats in Hong Kong which easily cost over HK$10,000,000.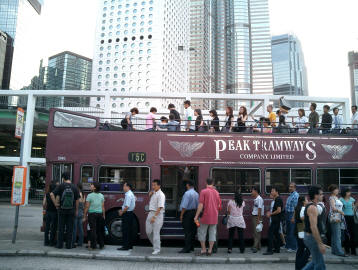 If you are lucky, you can get the open-deck 15C from Central Star Ferry pier.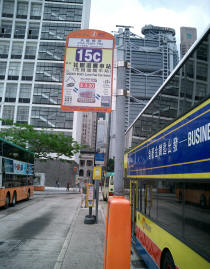 But sometimes they just have ordinary bus.
Q: Getting to The Peak from Ocean Park
A: There are several alternatives, read about them here.
Q: Can you fly to The Peak?
A: No, there is no airport or helipad on The Peak
Q: Is it possible stay in a hotel on The Peak
A: No, there are no hotels or other holiday accommodation on The Peak. If you see references to "The Peak Hotel" that was a historic building that is sadly no more.
More route details for getting to Victoria Peak