Walks
and view
Although many visitors to Victoria Peak spend their day in the commercial centre, in and between The Peak Tower and The Peak Galleria, there is in fact many interesting sights to see just a short walk away. And for those interested in walking for itself there are trails around the peak and connecting to longer walks all over Hong Kong islands.
Victoria Peak Gardens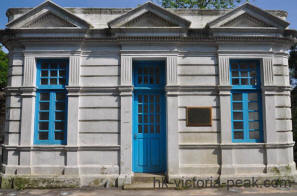 Just above the commercial centre is Victoria Peak Gardens, a government maintained open space with a large modern pavilion, several smaller traditional gazebos and great views. A good starting point for taking the "Governor's Walk" named as this site was once the location of a "Mountain Lodge" for the British Colonial Governor of Hong Kong, and this walk circumnavigates the gardens.

You will also pass the historic Gate Lodge which is a Victorian building which originally was beside the gate to the Mountain Lodge gardens.
Round Walk of the Hong Kong Trail

The Hong Kong Trail is a very long walk starting at The Peak and leading to the far east of Hong Kong island, not a walk to be done in one day except for the very serious walker. However the first part can be turned into a loop known as the Round or Circular Walk which takes less than an hour to complete on good foot paths at a casual speed.
Take the Hong Kong Trail, but at Harlech Road turn left back towards the Peak. This is a circular route suitable for the casual walker with great views to both side of Hong Kong island.
Pok Fu Lam Country Park
Following the Hong Kong Trail but continue on instead of turning back and you will find yourself in the Pok Fu Lam Country Park, one of the many country parks in Hong Kong that make it one of the most protected countries in the world.