Bus X15
Temporary route to Victoria Peak
During the suspension of the Peak Tram there is a special bus route to replace it. The suspension starts 23rd April 2019 and is scheduled to last "2-3 months" depending on the success of the engineering work. During this time there 15C bus route to the lower terminus will be suspended as well. Instead passengers are encouraged to take either the regular route 15 bus or this temporary additional route X15.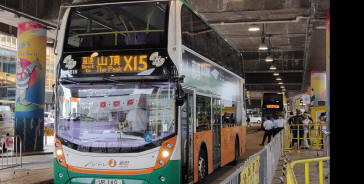 Take bus X15 from Admiralty station all the way to the Peak Tower. It runs ever 15-20 minutes during peak times (10am to 8pm) and at 30 minute intervals outside that. The first bus in the morning is at 7:00am and the last bus is at 11:30pm.
Find the bus station is right outside the Admiralty MTR station, take the Island or Tsuen Wan MTR link to Admiralty and exit at "Exit B". Turn left at street level and find the bus stop right there. The busses on this route are airconditioned modern double decker busses with Wifi.
The total time on the bus should be about 30 minutes spending on traffic, there are no stops along the way, but it does go through some of the busiest roads in Hong Kong so delays because of congestion will happen sometimes.
Bus fares are HK$12.40 for adults and half that for children or seniors. This makes it considerably cheaper than the peak tram, but of course a lot less convenient.
Notice that this ian express bus and takes passengers only at Admiralty West station, it does not stop anywhere along the route, and does not allow passengers to board when it reaches the Peak.
The route is a long one that goes from Admiralty through Wanchai to Causeway Bay, the along past Happy Valley before finally climbing the peak on Stubbs Road. It will go via Drake Street, Cotton Tree Drive, U-turn, Cotton Tree Drive, Harcourt Road, Gloucester Road, Canal Road Flyover, Wong Nai Chung Road, Queen's Road East, Stubbs Road and finally turn onto Peak Road.
The later part of the route, starting around Happey Valley, is the same as the 15 bus and similarly has great views but a windy passage that is not good for anyone with motion sickness!
You can also take a bus X15 to come down the peak, the last bus runs at midnight.
Check out alternative routes to Victoria Peak
For more information visit the CityBus website page about this route:
https://mobile.nwstbus.com.hk/nwp3/?f=1&ds=X15--The_Peak&l=1 (opens in new window)