Home › Hotels on Victoria Peak
Hotels
on Victoria Peak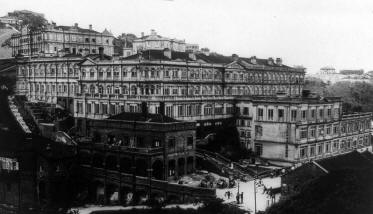 Despite being a major tourist destination Victoria Peak does not have any hotels or guest houses. This has not always been the case though, a Peak Hotel did exist from the 19th century until the 1930s in varies guises.
It is mentioned in historical accounts of Hong Kong as being one of the in places for the English speaking society of the time. But it seems the original building was repeatedly modified and rebuilt and expanded, and as is often the case with modifications, the quality was not what it might have been. The building became unstable and was closed in 1936, then just to years later after being abandoned it was destroyed in a fire in 1938. By that time the stresses in the world economy due to the war of course made the situation difficult and not rebuilt.
Accommodation choices
With no hotels actually on the peak itself there are still many choices for the tourist who wants to make the peak a centre of their stay. Because of the excellent public transport in Hong Kong it is quite easy to reach the Peak from a variety of different destinations, and there are plentiful choices of hotels in districts directly adjoining to the peak.
Major hotels are to be found in Admiralty and Wanchai which are basically just down the hill from the peak.
Major Hotel brands
Both located towards the east in Admiralty the Conrad Hong Kong and the JW Marriot have the great advantage of being both connected well with the MTR system, as well as being in easy walking distance to the lower Peak Tram terminus.
If you have a plan that involves waking up early and getting to the tram station before the crowds start then these two hotels are great choices. On the negative side of course they are major 5 star brands and have prices to match. There are a wide verity of other choices available though.
Hong Kong Hotels
Locally operated and run these hotels do still provide an international style of accommodation, but at a slightly more reasonable price range. To be fair these are not 5 star though and visitors from other countries may find them rather small. They are, however, geographically close though public transport routes which go around rather than straight up the mountain do take away that advantage to some extent.
Ovolo Central
Hotel LKF By Rhombus
Mini-hotel Central
Youth Hostels
There are also two youth hostels which are located even closer. And unlike the youth hostels outside the city these are much more what you might expect from a full service hotel even though they are run by the YMCA in one case
The Garden View Hong Kong (YWCA)
Address : 1 MacDonnell Road, Central, Hong Kong
Tel : (852)2877 3737
Fax : (852)2845 6263
Email : [email protected]
Near the YWCA is also 2 Mcdonnell Road which is a serviced apartments tower for those staying for longer periods. If you want to rent someone to stay for weeks or month, but are not ready to commit to a multi-year rental contract, then this would be a place to consider
Bishop Lei House
Although operated by the Catholic Diocese of Hong Kong this building located in the mid-levels on Robinson Road functions as a full service hotel.
Given the great transportation options to and from the Peak though this is not very important and most visitors are staying elsewhere in Hong Kong.