Nearby Hotels
To Victoria peak
While there are no hotels on The Peak itself, though there used to be, you will find a wide range of accommodation options very close by. With the excellent public transport options to and from The Peak, particularly the Peak Tram of course but also various busses and Hong Kong's excellent red Taxis, it is possible stay nearby and reach the peak very easily.
While the views from the top of Victoria Peak are by far the most impressive in all of Hong Kong you'll also find very interesting views over Victoria Harbour from some of the hotels which are at the base of the peak, but which are tall towers in their own right.
Located just minutes from the Lower Peak Tram Terminus there are several great hotels in Admiralty, just between the green and historic Hong Kong Park and the upmarket Pacific Place Mall.
Conrad Hong Kong Hotel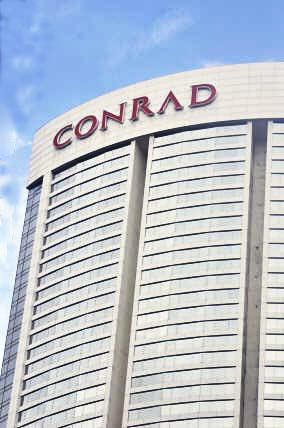 A top rated 5 Star Luxury hotel the Conrad in Hong Kong is just a 10 minute walk through the park to the Lower Tram Terminus, where you can catch the tram to the top. The hotel itself offers excellent décor in both rooms and public areas, with wonderful dining choices inside the hotel and affordable dining and shopping in the nearby malls.
Island Shangri-La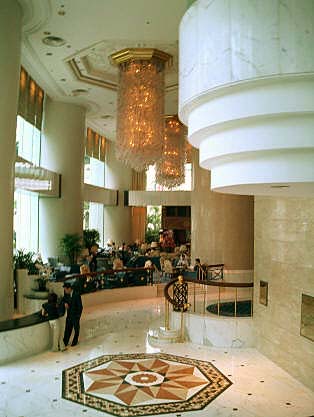 Imagine brilliant old world service and charm in a modern 5 Star luxury hotel and you will know what to expect at the Island Shangri-La which is situated just next to the Supreme court building and across from the British Embassy building. On the steep slope up towards the peak it also is in easy walking distance to the park, the mall and the tram line which can take you via in old fashioned style to anywhere along the north coast of Hong Kong Island.
Address: Supreme Court Rd
Phone:+852 2877 3838
The T Hotel
A training hotel located on the top floor of a hospitality training institute you will find here young and enthusiastic staff who are mixing their classroom studies with practical experience. You will find 5 star service though sometimes limited facilities that make this in total a 4 star experience, but at very reasonable rates.