Hiking to Victoria Peak but Avoiding the Crowds
By Seth at
ForSomethingMore
Hiking to Victoria Peak - A Hong Kong Classic
If you're planning on being in Hong Kong, your trip will not be complete without experiencing the gorgeous views from the top of Victoria Peak, known by locals as "The Peak". And while you can indeed ride the peak tram up to the top of The Peak, hiking all the way up will give you a distinctly different sense of appreciation for the 360 degree views of Hong Kong Island you will see from the top.
While there are many ways to go hiking to Victoria Peak, we like off the beaten path routes, and the ones that avoid crowds. So below, that is exactly the type of route we will share with you! Of moderate difficulty, if you're accustomed to a few hours of hiking, you'll surely be fit enough to enjoy this fantastic trail! But first, we want to make sure you'll have the proper gear to safely and enjoyably experience hiking to Victoria Peak.
If you and your family would like to hike Victoria Peak, but you'd prefer to leave the navigating to us, just give a click below, and we'd be glad to guide you on this hike.
What You'll Need to Bring
When you go hiking to Victoria Peak from Aberdeen, which we'll detail below, you will want to be prepared with a little bit of gear. We recommend the particular items below.
Rain Jackets
It never hurts to have a rain jacket. On the off chance that the weather turns, these will keep you dry and a bit warmer.
Water Bottles
We love these water bottles because they are insulated and reusable. Reduce your plastic waste by using these!
Sun Protection
It never hurts to protect yourself from the sun!
Camera and Lens
We love this camera and lens. This whole setup is weatherproof too, so we don't have to worry about it in the rain! After all the effort you put in while hiking to Victoria Peak, you will definitely want to capture some photos.
Getting There and Getting Home
Getting There
There are many ways to get to Aberdeen. However, we like taking the #58 Green Minibus from the Kennedy Town Bus Station to the Aberdeen Center. If you're coming from a different part of Hong Kong, the best way to find optimal directions is to simply use Google Maps. If indeed you are using Google Maps to find your own way to Aberdeen, a good location to put in as your destination will again be the Aberdeen Center.
Getting Home
Once you arrive at The Peak Tower visitor center, there are many ways to get down that do not involve using your, likely tired at this point, legs! These include, taxis, busses, mini buses, and even Uber/Lyft if you'd like. Again, the best way to navigate to your next destination is to use Google Maps.
Difficulty and Distance
Difficulty
This trail is of moderate difficulty, as the entire route is a gentle but sustained uphill hike. From Aberdeen all the way to the Peak however, you will be on paved trails, thus this route does not include any technical terrain with loose rocks, slippery gravel, etc. (If you're more of a beginner hiker however, you might want to consider taking the Peak Tram up the peak and then later on hiking something like Waterfall Bay or even the Hong Pak Country Trail instead.)
Distance, Elevation Gain, Duration

Distance: 4.6km (2.85mi)
Elevation Gain: 494m (1620ft)
Duration:
Beginner pace: 3.5 hours
Intermediate pace: 2.5 hours
Advanced pace: 1.5
Our Route
While you're out on the trail we recommend you use both Google Maps and our Picture Directions (below) to navigate. To open our Google Map map on your mobile device, just click this ForSomethingMore Aberdeen to The Peak Google Map link, and you'll be good to go!
Our route starts in Aberdeen, one of the southern most parts of Hong Kong. Know best for the Aberdeen Fishing Village, you might even want to check this out before you start on your hike up The Peak! Our route heads up Peel Rise and eventually ends at The Peak Tower visitor center.
In Aberdeen you will get a real feel for "local Hong Kong" culture. Heading up Peel Rise you will wind your way through some of Hong Kong's lush and verdant sub-tropical jungle. When you arrive at The Peak you will be able to enjoy sweeping views of Hong Kong Island and beyond!
This route has it all, and we are confident you will enjoy it as much as we do!
Picture Directions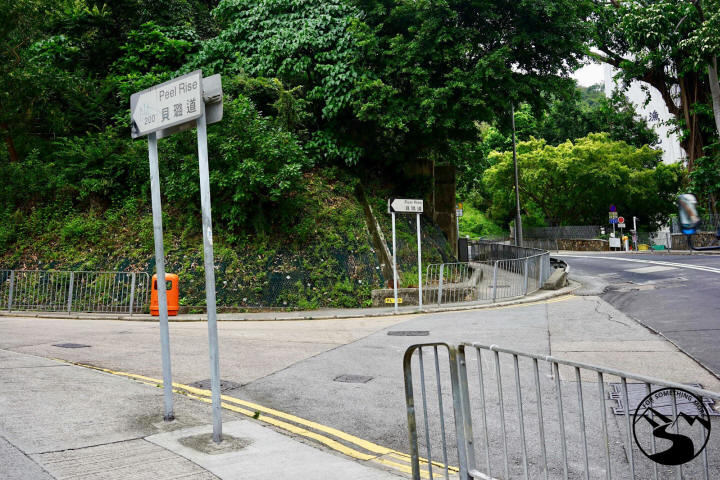 (Our route starts at Peel Rise in Aberdeen.)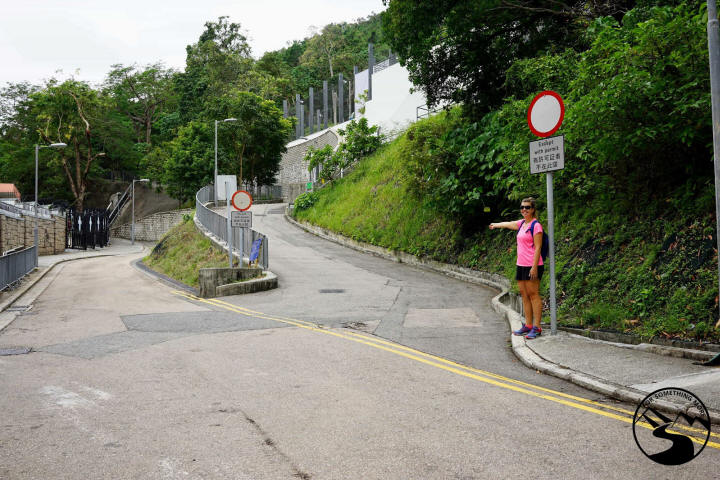 (Head up the right fork in the road.)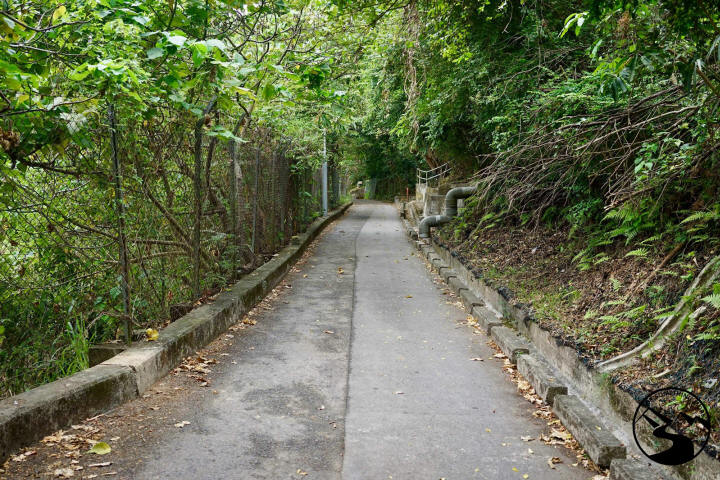 (Enjoy the green tunnels of Hong Kong!)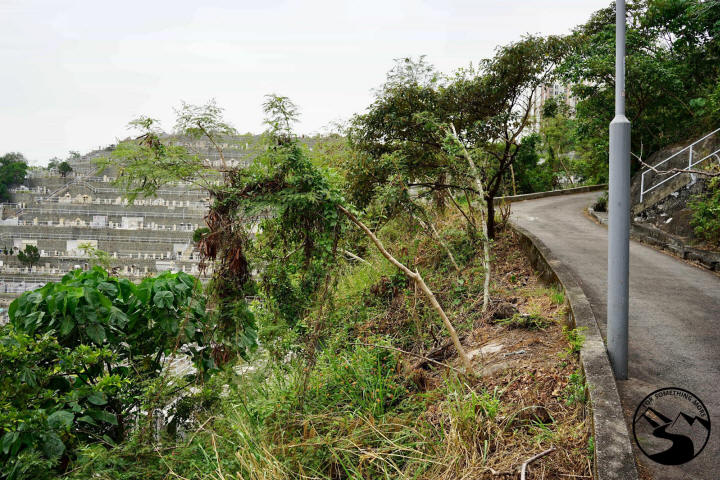 (As you enter the cemetery, follow the road up and to the right.)
(Walk up this hill, until you reach a gate.)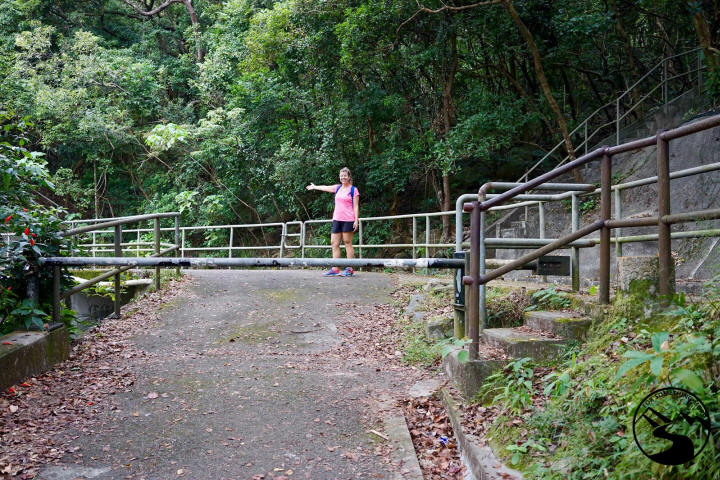 (Just before the gate, head right up the three small stairs, and then continue on to the left.)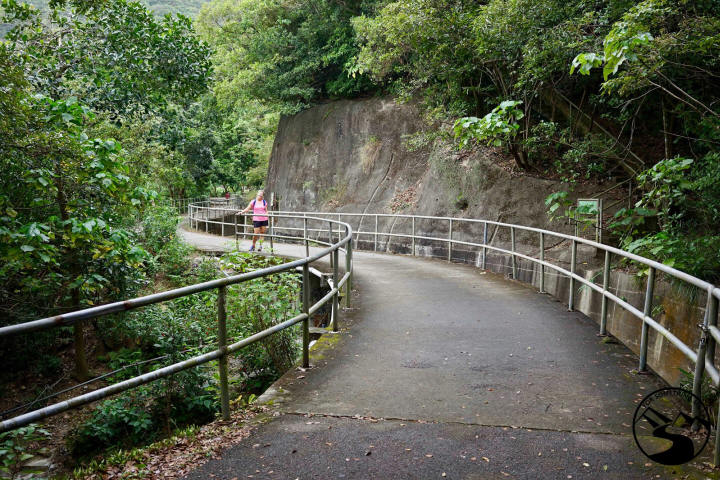 (Walk along this winding catch-water for a while.)
(When you reach this junction, cross over the catchwater to the right, and continue onwards.)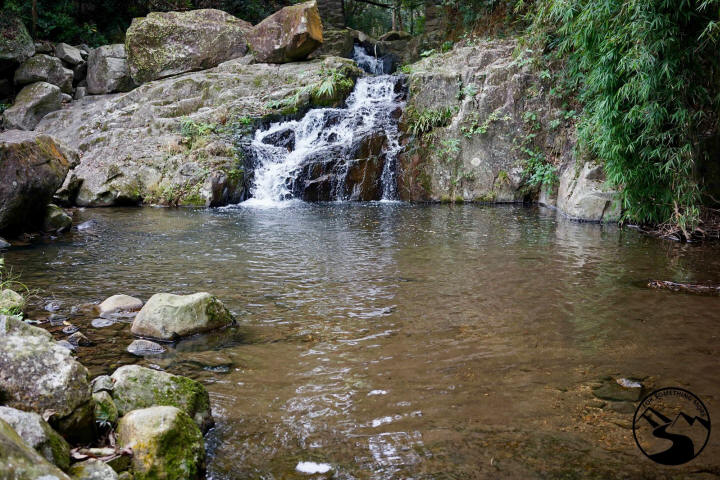 (Don't forget to enjoy some of the natural beauty!)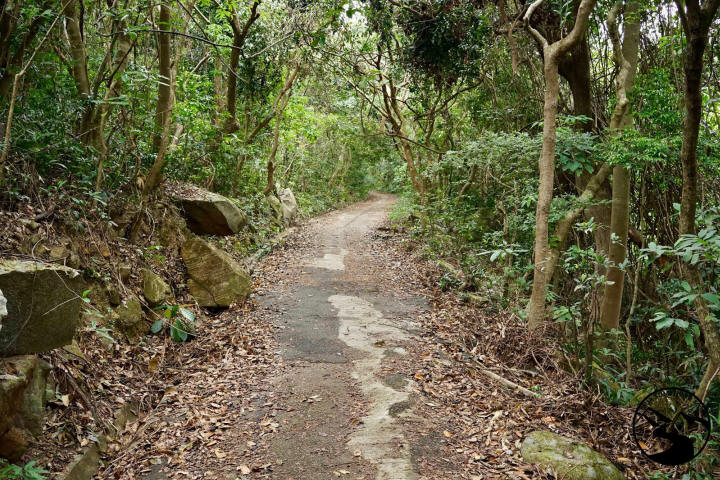 (Continue up this path.)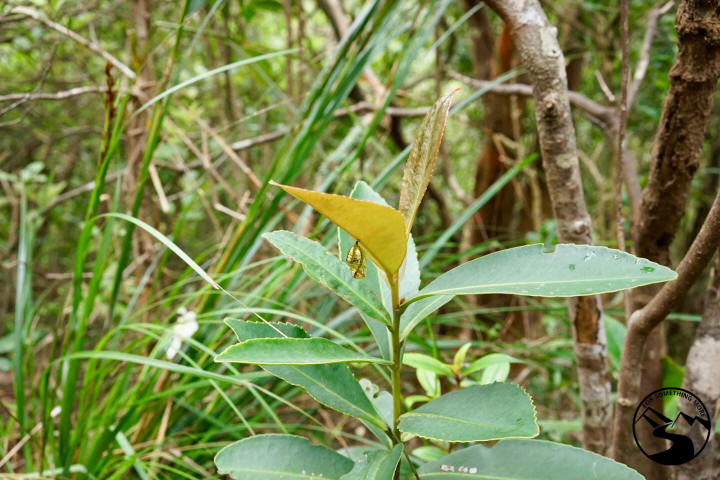 (If you look close enough, and if you're lucky, you may even see a metallic gold pupa of a butterfly yet to come!)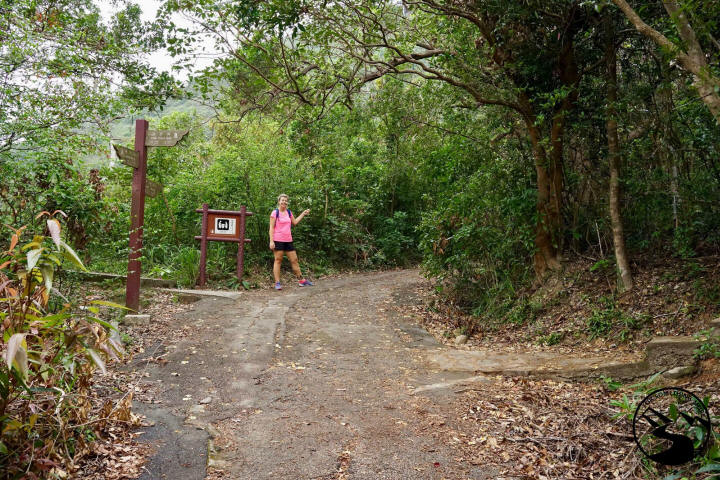 (At this junction, bear up and to the right. Do not take the hard right up the steps.)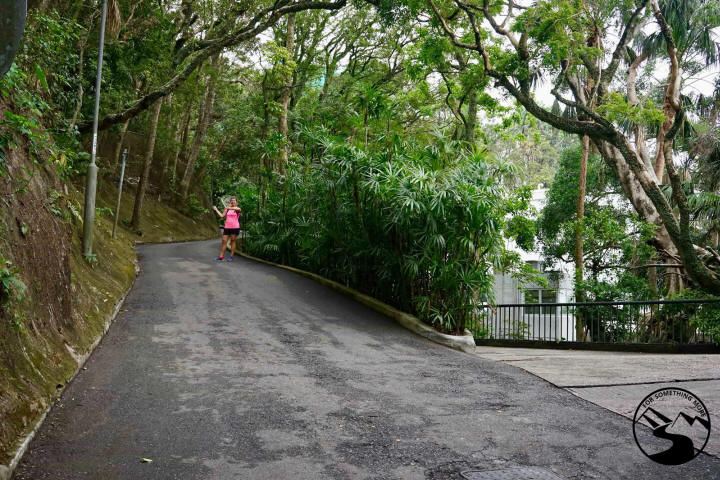 (Eventually, the trail turns into this road. Head up and to the left.)
(Again, head up and to the left. Watch out for cars!)
(Again, head up and to the left.)
(Now you're on Peak Road. You're almost there!)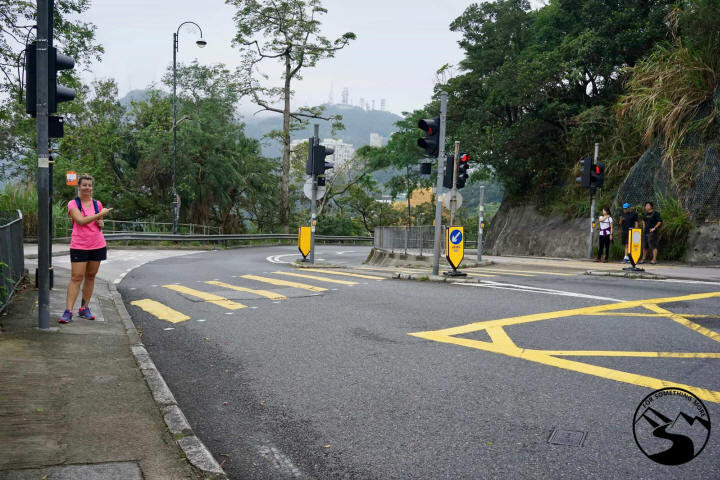 (Cross the road at the light.)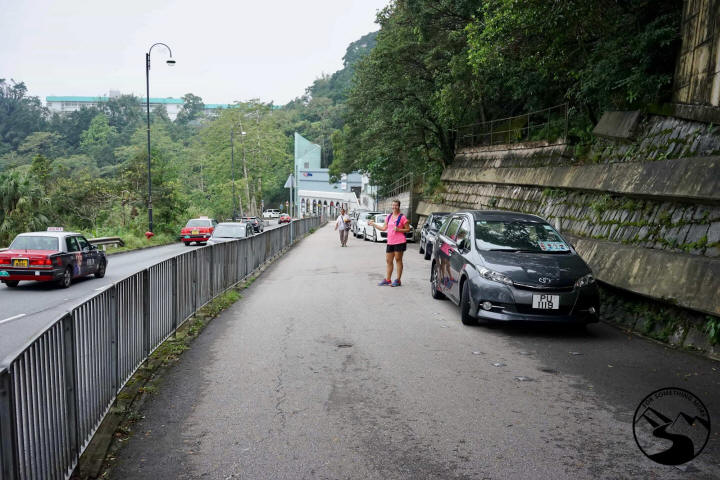 (Walk down this small side road. Be careful however, cars still drive on it.)
(Eventually, you will arrive at the back of The Peak Galleria. Walk around the left side of the building to get to The Peak Tower area.)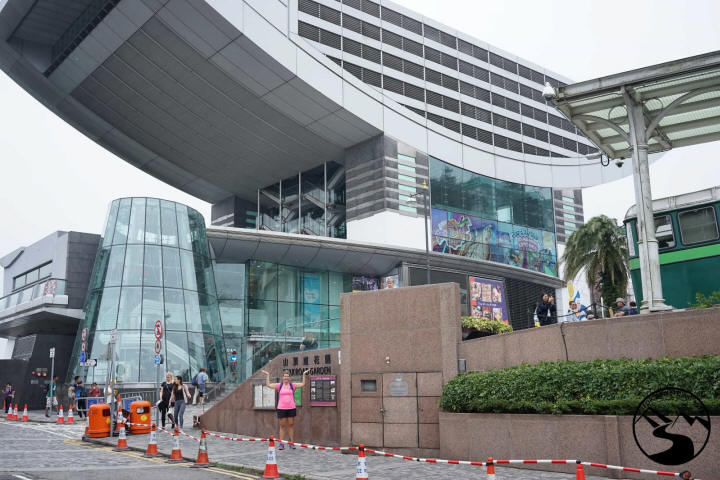 (Eventually, you will arrive here at The Peak Tower!)
Get Hiking
Well there ya have it! If you want to experience hiking to Victoria Peak, but you want to avoid the crowds, we recommend you start in Aberdeen, head up Peel Rise and end at the Peak Tower! Once you're there, the views of Hong Kong Island and beyond will make all your effort very worthwhile! If you do have more energy on this particular day, or if you'd like to experience another part of Hong Kong's wonderful outdoor spaces some other time, consider hiking Mount High West (which is quite nearby) or even Jardine's Lookout which is only a short train ride away! No matter what you do, if you have any questions about this route or any other off the beaten path adventures in Hong Kong, don't hesitate to contact us at [email protected]! And until then, happy hiking!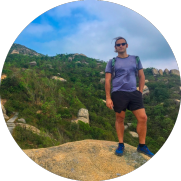 Seth writes about off the beaten path adventure travel experiences! Based in Hong Kong, but covering the world over, he learns and shares about local culture so his readers have the information and inspiration they need to craft their own off beaten path travel experiences. ForSomethingMore helps travelers avoid tourist traps, access the true essence of a place, and adventure and eat like a local. As a minimalist, Seth usually travels with only a school bags worth of luggage as well as his desire to take only photos and leave only footprints. Find more of his off the beaten path adventure travel guides at www.forsomethingmore.com.